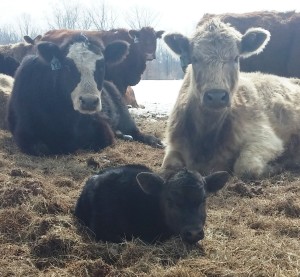 When I checked cows at noon on Tuesday, everyone looked fine.  When I went to re-check at 5, I found Y3 and Y10 both cleaning newborn calves.  Having two cows calve this close together isn't too unusual, especially when you think about cows are managed.  Not only are Y3 and Y10 half-sisters – both are daughters of our Chunky bull, their mamas are half sisters!  On top of that, Y3 and Y10 were both AI'd (artificially inseminated) to the same bull, JSF Capiche 46U on the same day.
Twenty yards out though, I could tell there was a problem with Y10's calf.  I was there literally within seconds of the birth, but the calf was not breathing, and there was no heartbeat.
Y10 didn't care though.   She figured she'd just take Y3's calf!  Y3 wasn't too happy about it at first, but she's sort of resigned herself to that fact that she's sharing her calf.
Bet you can't guess the baby's nickname!